Cinnamon Caramel Apple Cake with Goat Cheese Frosting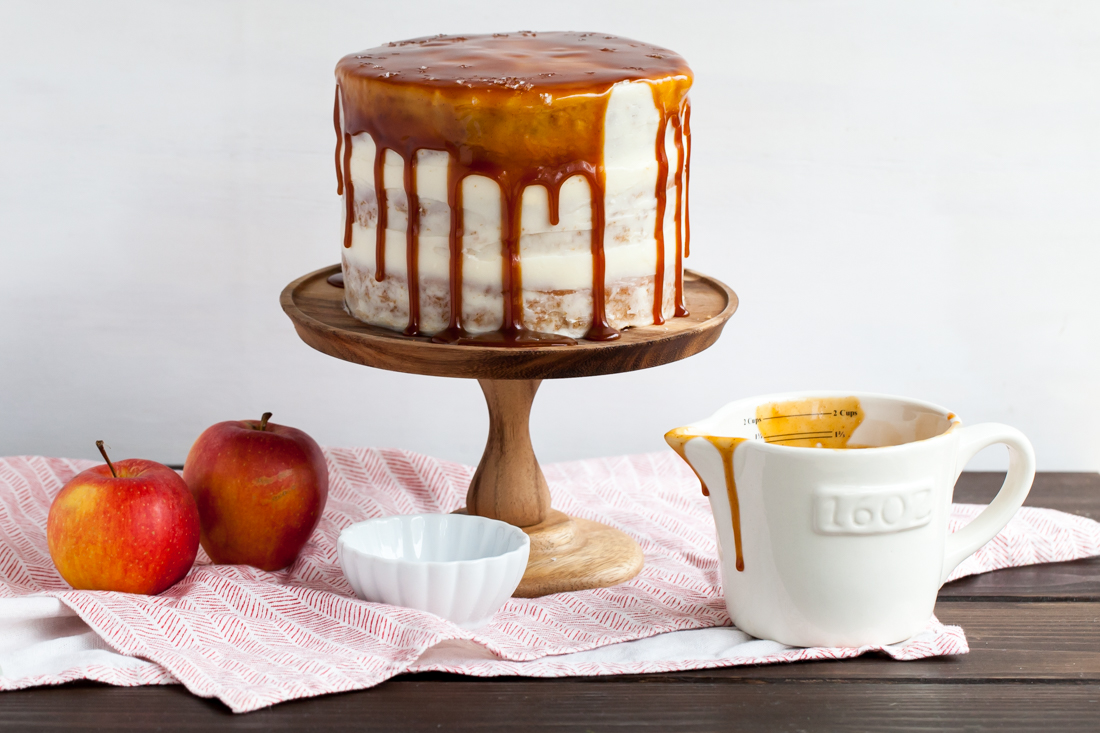 Goat cheese in a dessert?  Yes, you read that right.  As a frosting, it's tangy, cream, and delicious.  Let me tell you about it....
As a recipe developer, I am always looking for a better, easier way to prepare a classic dish or a new, fresh way to incorporate unique ingredients to make something original.  This task is fun, but it does have its challenges.  How many ways can you make a pumpkin pie, after all?  Naturally, this job comes with a lot of experimentation, failed recipes, and flavours that really don't come together.  In an effort to be unique and creative, sometimes I go too far and need to reel in the crazy.  This goat cheese frosting is not one of those times.  It is fabulous!
Think about cream cheese frosting.  Sweet, fluffy, and so so decadent swirled atop cupcakes, smothered over cinnamon rolls, and obnoxiously layered in a cake before being mounded on top and slathered on the sides.  Cream cheese by itself is not sweet, but rather tangy.  A simple switch to goat cheese creates a similar frosting, but one that is a bit more refined, less expected, and not nearly as sugary-sweet.  Seriously, next time you are making carrot or red velvet cake, try this easy swap!  Or with this Cinnamon Caramel Apple Cake, of course.  You won't be disappointed.
Unlike most other warm-n-fuzzy fall apple treats, this cake is brightened up with sour cream and a dash of cardamon to go with the goat cheese frosting.  To top it all off, cinnamon-infused caramel is drizzled and dripped over the top.  And if you are into salted caramel sauce (and let's face it, who isn't?), sprinkle with flakey sea salt for an extra punch!
Head on over to The Cake Blog for the whole recipe!