Pumpkin Squash Muffins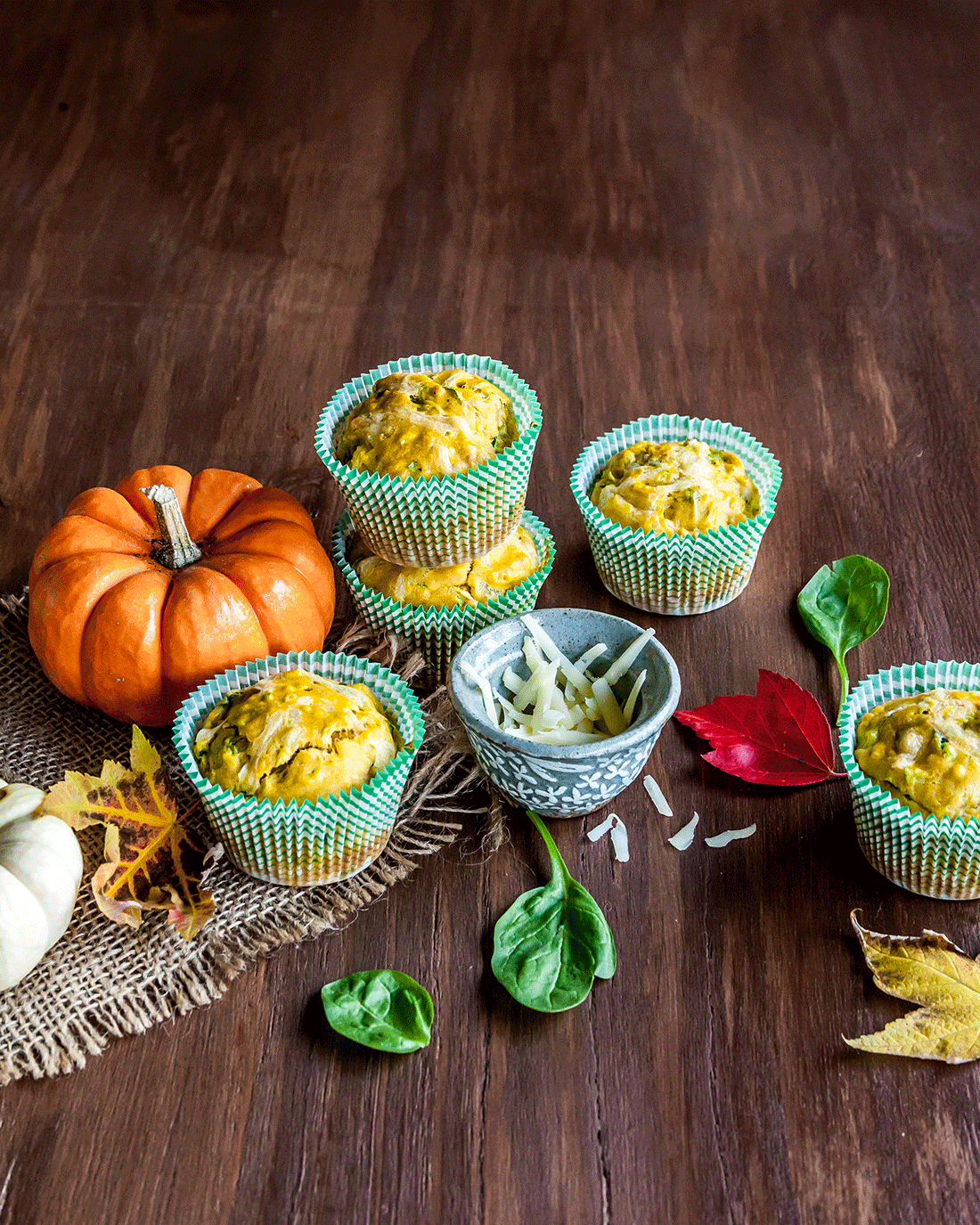 I'm back in Vancouver, and it is officially fall.  I could not be more thrilled!  The blog has been a bit slow, but as you might have seen on Instagram, I was out of town celebrating some very important things.  If you don't follow along yet, you totally should.  Anyway, It was hotter on our trip to California over the weekend than the hottest day in Vancouver this summer.  I know that might not seem too strange (we live in Canada after all), but it's October, people!!  As much as I looooved seeing my family and friends, I am happy to be back to our chilly mornings, changing leaves, and fall cooking.  Can you believe Thanksgiving is this weekend already?
Did you know that not all baked goods need to be sweet?  Of course you did, you brilliant readers of mine.  But, sometimes I forget how delicious and heart-warming savoury pastries can be.  I recently made a glorious chicken pot pie with the fluffiest, drop-biscuit crust and a pan of French onion buns.  So good.  You may remember the Apple Zucchini Muffins I made last month that made the perfect snack.  Well, I took those muffins to the next level to create these Pumpkin Squash Muffins.  For those with a busy fall schedule, like me, these are certainly going to come in handy.  Bake a batch to supplement a big pot of soup for the week to make an amazing meal, or warm one up to go with a roasted vegetable and hearty grain salad for lunch.  Yumm.  They are full of veggies, flavour, extremely moist, and easy to make.  Perfect for on-the-go snacking, too.  In fact, I will probably whip up another batch in time for Thanksgiving this weekend.  What an awesome starter or side dish!
I try to cook with the seasons, and I found the most beautiful striped zucchini at the market down the street for this recipe.  If zucchini is totally out of season in your neck of the woods, try grating up your favourite fall squash.  Feel free to change up the cheese (or leave it out completely), add in your own herbs or spices, and top with chopped, toasted hazelnuts.  So versatile!
What are some of your favourite savoury pastries and baked goods to make this season?
[amd-zlrecipe-recipe:90]
Thank you all for your patience with my posts lately.  Coming up: Pistachio Pumpkin Granola, Homemade Pumpkin Spice Syrup, and more!!