Chai Sweet Potato Cupcakes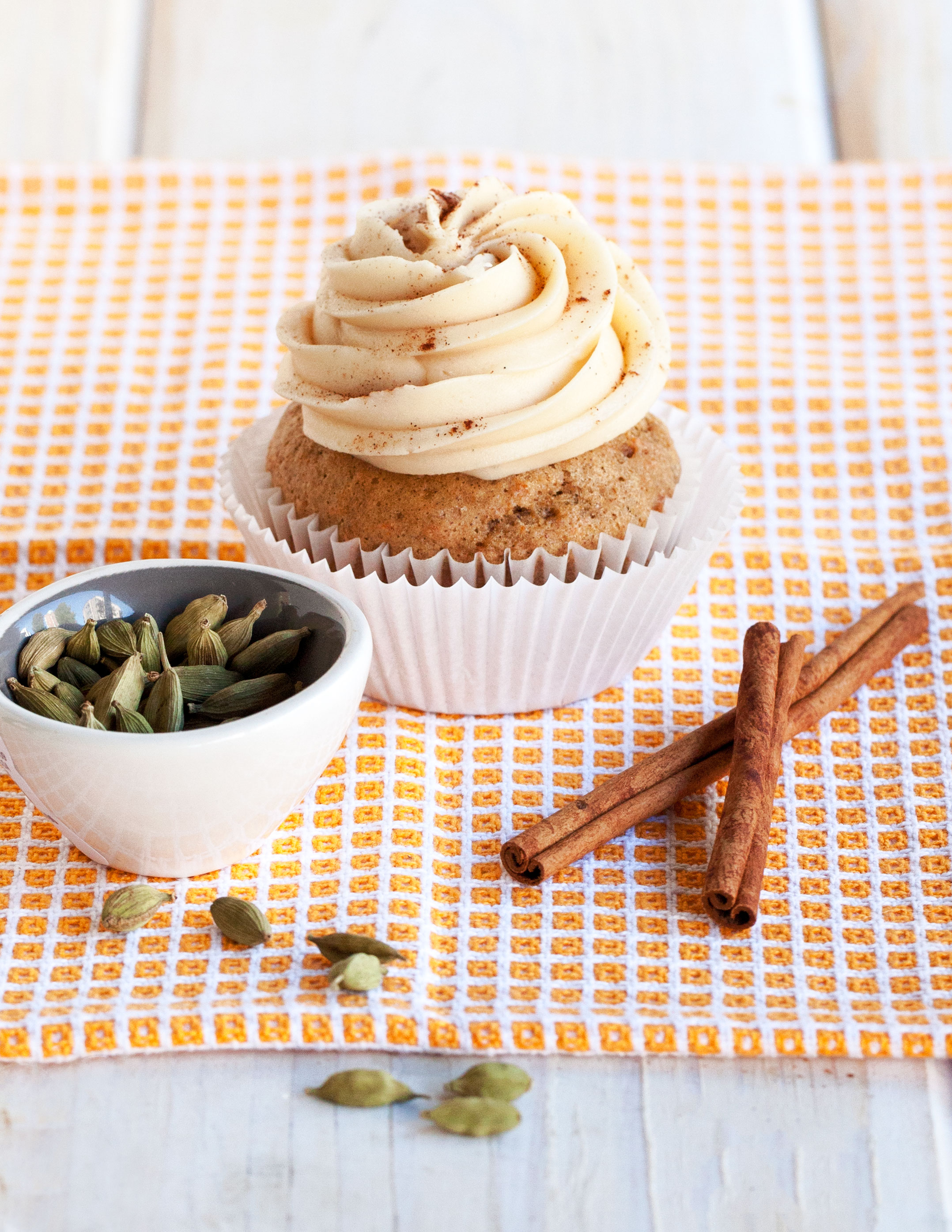 If you were to open the cabinets of my kitchen, then you would quickly figure just how tea-obsessed I really am.  I've had a pretty decent collection for some time now.  I love going out for tea as much as I enjoy buying it, so the collection seems to grow and grow... When we moved from Cali, my tea was even packed in its own precious box.  Some of my habits tend to be borderline nuts, and my tea habit (or tea collecting) might be one of them.
My favourite teas are always black teas.  I always try greens, whites, and herbals, but they are just not the same.  The different flavorings don't come out the same way they do in a black tea.  I love a good almond black tea, and I am such a sucker for a nice London Fog.  Although it is not necessarily a seasonal tea, I enjoy a spicy Chai the best in the fall.
To be honest, the first time I made Chai syrup (to be used in this recipe), I actually didn't have any Chai on hand.  However, I did have an almost-full box of cardamom pods.  Anyone else have random boxes of whole spices just lying about?  No?  Just me then ;)  Anyways, I decided to make my own chai syrup with just black tea and whole spices infused into a thick, rich simple syrup.  Success!  The syrup is very strong and pretty bitter - but mix that into some hot water and steamed milk, and YUMMMM.  Ever better, mix that into some sweet, silky buttercream - HEAVEN!!
Now, we all know that Pumpkin and Cinnamon have been reigning as fall's King and Queen for some time now.  There is LITERALLY pumpkin spice EVERYTHING: from candles to cookies, coffee to body lotion, toothpaste to motor oil...okay maybe not quite yet, but you get the idea.  For this recipe, I am starring a different orange vegetable and a whole set of spices.  These Chai Sweet Potato Cupcakes are extra moist and extremely flavourful.  Check out the full recipe over on The Kitchn.